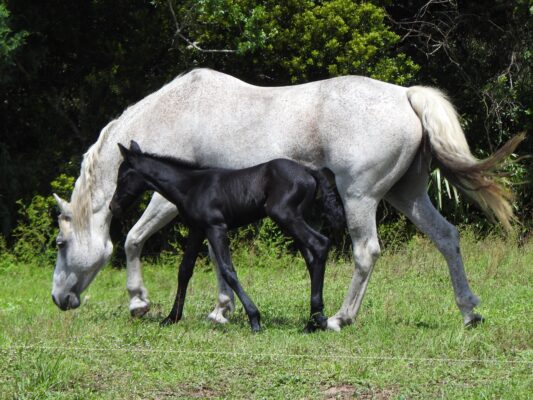 Purebred grey Connemara filly destined to be a great performer.  She's athletic and well put together. She has good bone.  She should be between 13.2 and 14 hands.  She's a feisty, but very friendly. She has a full sister yearling with excellent movement. Whistle appears to be similar.
A bit about the breeding of this foal. My foundation mare, Whistle's granddam, Coral Misty Ciara, was imported from Ireland by a third generation Connemara breeder. The mare was bred by his father.  Coral Misty, Ciara's granddam, won the Clifden Connemara Show Supreme Champion TWICE!   The sire of this filly, Ceili Mosi oa Tunya was my companion and riding pony his whole life.  The man who started him, moving cattle and scaling mountains in Colorado, said he didn't have a mean bone in his body. His eventing trainer said that he could go Preliminary.  I didn't want him jumping those big scary jumps.  Mosi and I dabbled in x-country and dressage but spent most of our time riding in the mountains and beach combing. His foals all have his stamp and wonderful loving disposition. The dam, Doe Valley Melise, is the daughter of German import, Patty's Brown Sugar, by the Australian import, Glenormiston Flurry Knox.  Ceili Mosi oa Tunya is by Irish Park Caraway Finn and out of Coral Misty Ciara. Ciara became a Junior competitive jumper, even competing in the USEF national pony finals.
This filly is N/N for Hoof Wall Separation Disease (HWSD).
Email Julie Keahey keaheyjulie@gmail.com
Call (970) 581-6120
$7000, may trade for riding pony.
Price:
$ 7,000