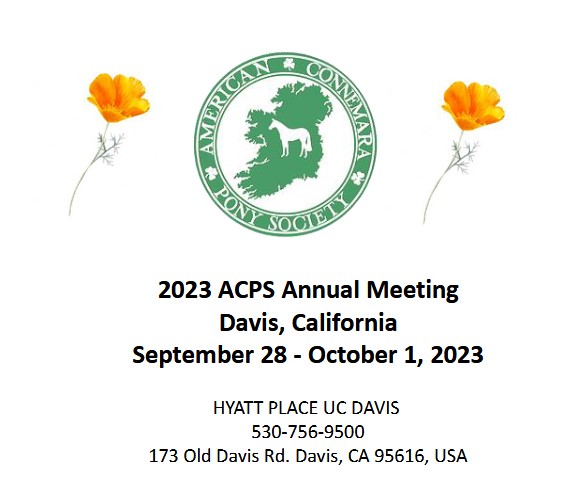 ACPS Annual Meeting, September 28-October 1, 2023
Make your reservations now! Use the link below to get the ACPS room rate. Deadline for reservations is August 28, 2023.
Thursday, September 28, 2023
Come enjoy the California sunshine and visit the #1 Vet school in the country, #2 in the world! Arrive early and enjoy a day to relax by the pool, catch up with friends and explore the charming university town of Davis. There is a super tack shop in nearby Woodland or take a drive into Old Town Sacramento for great shopping and food. Wine tasting in Amador County or a visit to the Sacramento International Horse Show are also worthy day trips. Dinner Thursday and Friday will be on your own, and reservations are recommended. The beautiful Arboretum Trail takes you on a leisurely one mile walk from the hotel to town. Unless otherwise noted, the meetings and activities will be onsite at the Hyatt Place.
Friday, September 29, 2023
8-10am        Executive Committee Meeting
11am – 3pm UC Davis School of Veterinary Medical Teaching Hospital. Box lunch,  presentation, and tour. Dr. Carrie J. Finno, DVM, Ph.D., Diplomate ACVIM (LA), Director of the Center for Equine Health at the UC Davis School of Veterinary Medicine and Dr. Alain  Theon, DVM, MS, PhD, Dip. ACVR-RO, Professor and UCD-VMTH Oncology Service Chief, will present the latest in Equine Melanoma Research. 1 mile, walk or drive.
5-8pm          Great Bear Vineyards Welcome Wine Tasting, appetizers, and music! 10-minute drive.
Saturday, September 30, 2023
9am            Annual ACPS Board of Governors and General Membership Meeting
6pm            Cocktails, Silent Auction – featuring Region X stallion breedings for 2024 and much more!
7pm            Dinner and Awards Ceremony
Sunday, October 1, 2023
9-11am        Rosewood Riders' Masterson Method Demonstration, the Backs Family Farm, 10-minute drive.